Niigata City – Niitsu Railway Museum
. . . A brief journey along the tracks.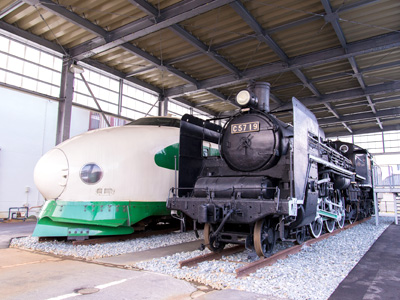 Located on the inland plains of Niigata City and nestled between the mighty Shinano and Agano rivers lies the town of Niitsu.

From the late 19th century, Niitsu began its strong period of industrialization, which resulted in the town becoming the cornerstone to the Sea of Japans coastal railway network. Being home to many railway facilities, it is often said that during the height of this industrialized period, one in every four people employed locally, worked for the railways. It was also at this time that Niitsu was compared to Maibara, famously known throughout Japan as the major railway convergence juncture located on the Tokaido Main Line.

In 1983 (Showa Era 58), the characteristic sprit of Nittsu and its inhabitants led to the opening of the Niitsu Railway Museum much to the delight of railway enthusiasts both locally and abroad. Since our doors have opened, the collection pieces on display have increased to include a vast number of items from the JNR era. A quality refurbishment was completed in 2014 including a Shinkansen 200 Series (Bullet Train) along with a C57 Steam Locomotive amongst others being displayed permanently in an outdoor exhibition.
Information
Time Table
Hours:9.30am – 5.00pm(Sorry,there is no admission after 4:30pm)

Days

:CLOSED – Tuesday

>Should Tuesday fall on a public holiday, we will be open and the following day will be closed
>New Year Holiday – December 28th – January 3rd (subject to change)


Admission
| | Per Person | Group + 20 | Annual Passport |
| --- | --- | --- | --- |
| Regular | 300yen | 240yen pp | 1,000yen |
| University & High School Students | 200yen | 160yen pp | 700yen |
| Junior High School & Elementary School Students | 100yen | 80yen pp | – |
> Annual Passport allows one year entry from date of purchase to permanent exhibitions
> Free entry on Saturday & Sunday for Elementary & Junior High School students
> An additional fee may apply for some non-permanent exhibitions
Access
Museum Adress
2-5-6 Niitsu Higashi-cho, Akiha-ku, Niigata City 956-0816
Tel – +81 250 24-5700 Fax – +81 250 25-7808


> Museum Satellite Office (Teishaba) located at Niitsu Station East Exit (below the stairs)
Travel to Niitsu Railway Museum by Rail then Bus
Train leg:
From Niigata Station, take the Shinetsu Line for approximately 20 minutes getting off at Niitsu Station before heading to the East Exit Bus Stop

Bus leg:
1 From the Niitsu Station east exit bus stop, three bus routes pass nearby the museum stopping at Niitsu Technical High School.
These buses are bound for –

>> [S94]Niigata Station, Bandai City via Soumi & Yokogoshi 沢海・横越経由新潟駅・万代シティ行
>> [SK1]Kyogase Branch Office 京ヶ瀬営業所
>> [SK2]Shimoshin via Daianji 大安寺経由下新

2 Get off at Niitsu Kogyo Koukou (Niitsu Technical High School) 新津工業高校前
3 Head south approximately 100 meters
Travel to Niitsu Railway Museum by Car
1 Take Banetsu Expressway to Aizu-Wakamatsu
2 Exit at Niitsu Interchange
3 Take your first left and follow signage

>Free parking available for up to 100 cars
Contact
Please contact us by clicking on the link below
>> Special thanks to
Kiwitalk
for English translation.